Custom Urban Cruiser Bicycle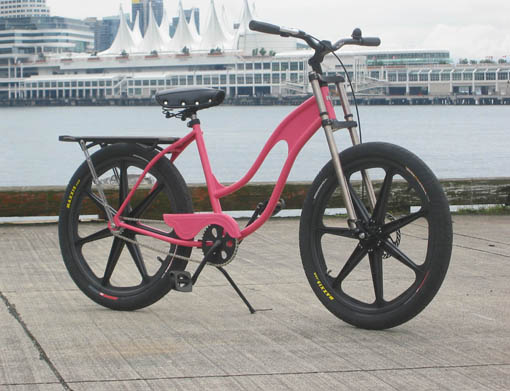 June 14, 2004

So I decided to build my girlfriend a bike for her birthday (June 10) at the start of May. I had never built a custom bike before, or even assembled a normal one, so I had a lot to learn -- and learn I did! I had a concept however, and that was enough to start with. I wanted to create a girl's bike that was super tough, cool, custom and still totally functional. The idea being that she could commute to work on it (just under 2km). I decided on a single-speed to keep it easy, and stayed away from doing a BMX due to their cramped size. I like to be really thorough so nearly every single part of the bike went through a rigorous design and decision process. I ended up cheaping out on a few of the easily changeable components (grips and pedals notably), but I my opinion they don't ruin the final product.

I started with a used Norco girls cruiser frame that I bought for $40 from a non-profit bike store called "Our Community Bikes" -- lots of anti-car vibes there, but they had scads of used parts that sift through. This frame in particular was chosen due to its swoopy tubes, and the wide chain stay clearance to fit fat tires. While I was there, I also picked up a cool old chain guard, a retro sprung seat and a set of Ritchey handlebars.

Next up was wheels and tires. I wanted black wheels, and considered painting a 144 spoke set, but this was going to be a big hassle and wouldn't have turned out well, so I sourced a pair of 24" (cruiser BMX size) Skyway Tuff II mags on eBay. 24" tire selection is pretty limited, but I found some great urban downhill tires from Maxxis that fit the bill perfectly. I filled those with a set of Nokian downhill tubes for a nearly indestructible and trouble free setup.

I was initially going to run a simple coaster (kick-back) brake, but then my friend Nick at work asked me, "how much do you like your girlfriend?". She will be riding it in city traffic -- and in his opinion a coaster brake wasn't going to do. He suggested I use a disc, which sounded good to me, so I ordered a 160mm Avid mechanical disc brake setup. As it turns out, Skyway doesn't make 24" wheels that take disc brakes, so I had to come up with my own solution. I was up for a challenge, so I fired up SolidWorks and got down to business. I quickly discovered that the mounting of the caliper and other factors would require me to build my own front forks while I was at it – sounded fun, so I forged ahead.

At this point I broke out the billet... With the aid of a .dwg file provided to me by Skyway, I designed and machined hubs that mated to "fingers" which fit in every spoke of the wheel. One assembly on each side of the wheel makes for a super supported system. Some custom bike building friends of mine adapted a brake to these same wheels a few years ago with a simple system that yielded catastrophic results, so I went overboard to make sure that the forces would be distributed all over the place and that the central hub of the wheel wouldn't be affected.